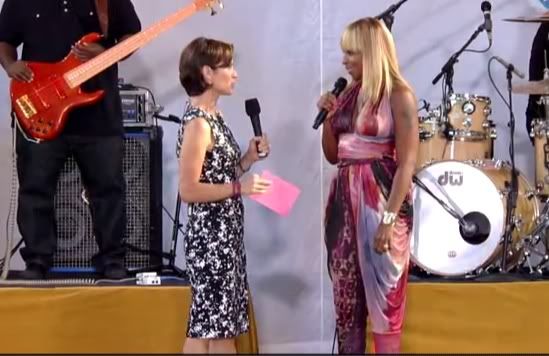 Mary J. Blige performed in New York's Central Park this morning as part of GMA's Summer Concert Series. Watch video from Mary's set inside and get the deets on her upcoming films.
Mary J. Blige chatted with ABC's Elizabeth Vargas this morning before she took the crowd in Central Park through a show-stopping performance of her latest single "25/8" and her classic hit "Just Fine."
She talked to the audience about her upcoming album My Life II: The Journey Continues saying it revisits some of the same dark emotions that My Life did, but it's also an upbeat album about learning from the past and living a healthier life.
She also reveal that her Rock Of Ages co-star Tom Cruise has a great singing voice and that she's excited to play Nina Simone in a soon-to-be-released biopic.
Watch Mary's interview and her performance of "The Living Proof" from The Help here:
Watch Mary perform "25/8" here:
Watch Mary perform "Just Fine" here:
Source: http://theybf.com/2011/09/02/performance-fab-mary-j-blige-turns-out-central-park-for-gmas-summer-concert-series-video
Sam Robards Scott Caan Scott Wolf Sean Lennon Stewart Copeland